Model: LE-1   Specs: Circular:50-100mm
Description:
Complete the automatic dispensing and assembly process for the horn (washer, auxiliary magnetic, magnetizing, main magnetic circuit, magnetizing, magnetic gauge), industrial-level integrated bus control, real-time monitoring of MES system data.
Features:
1: reduce labor 2: improve efficiency: 3: enhance quality 4: management data
Automatic circular magnetic speaker sub-magnetic assembly line (LE line), focusing on the automatic assembly of internal magnetic speakers, including: washer, magnet, dispensing, magnetizing, main magnetic circuit, secondary magnetic gauge, magnetization, and secondary magnetic , drying and other assembly and automated dispensing process, the whole machine only needs 2 (the bracket input person or terminal puncher ) to complete the operation, each workstation can meet the performance and quality requirements, washer realizes positive and negative identification, precise double AB dispensing process, auxiliary magnetization, main magnetization, auxiliary magnetic drying, etc. The materials of magnetic circuit products are supplied by vibrating disc. The size of vibrating disc can be adjusted to meet the needs of product universality. The secondary magnetization realizes automatic magnetization and can meet the dispensing of circular internal magnetic horn below 100mm.The whole process adopts automatic positioning, the universality is maximized, the quality is guaranteed by 100%, the overall design adopts linear structure design, the layout of each manipulator is reasonable, the operation is convenient, and the industrial bus PLC control technology is used to upgrade and optimize the remote program; MES data monitoring system strictly controls the process, efficiency and quality;Electrical accessories are imported brand to ensure stable performance of the whole machine. The LE line represents the most advanced speaker assembly automation process, the overall layout is high-end and classy. It is the ideal equipment for customers to realize China's industry 4.0 and realize intelligent manufacturing.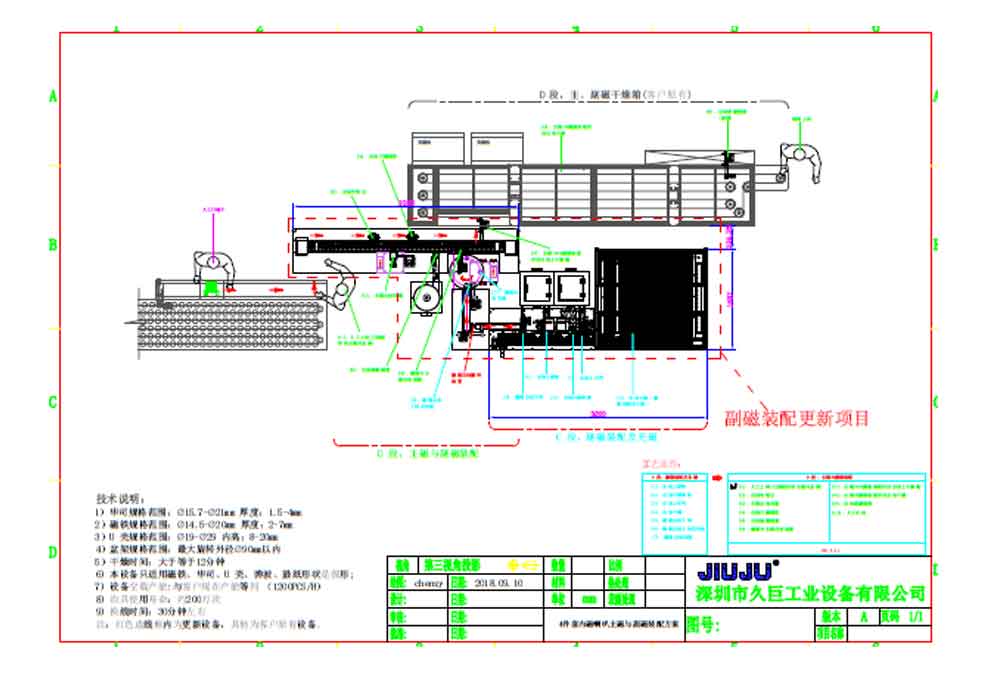 | | | |
| --- | --- | --- |
| Project Name | Manual operation mode | Automatic operation mode |
| Personnel input | 6p | 2p |
| Personnel saving rate | 0% | 71% |
| Asset input | 150,000.00 | 500,000.00 |
| Equipment capacity | 1300UPH | 130UPH |
| Equipment failure rate | ≤98% | ≤98% |
| Defective product rate | ≤1% | ≤1% |
| Scope of application | No limit | Circular inner magnetic ≤100mm |
| Line changing time | 20min | 20min |
| Personnel input details | as beblow | as below |
Manual operation personnel input and automation personnel input details:
Traditional manual process:
Manual operation process and personnel situation:
Secondary magnetic assembly:
Manually terminal punch (2 people) → Manual secondary magnetic charge (1 person) → Manually install the secondary magnetic gauge (2 persons) → Manually pull the secondary magnetic gauge (1 person).
capacity:1300-1500PCS.
Automated process and personnel:
1.Automatic washer feeding → Automatic Dispensing → Automatic Sub Magnetic Feeding → Automatic Drying → Automatic Magnetizing
2.Manual terminal punch → automatic dust removal → automatic dispensing → automatic insertion gauge → automatic magnetization → automatic secondary magnetic assembly → automatic drying → automatic extraction
Terminal punch person:1p Capacity:1300-1500PCS.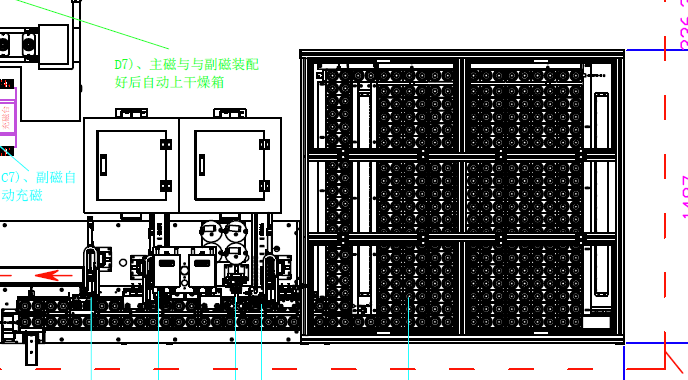 Overview:
The whole machine adopts integrated structure design, fully automatic processing of Huashi, magnet, U automatic feeding, dispensing, bonding, drying, packaging and other processes, using PLC precision control, imported electrical components, replacement type only need to adjust the size of the vibrating plate The whole machine can be changed only by replacing the magnetic gauge, position the fixture. Easy to operate and easy to use.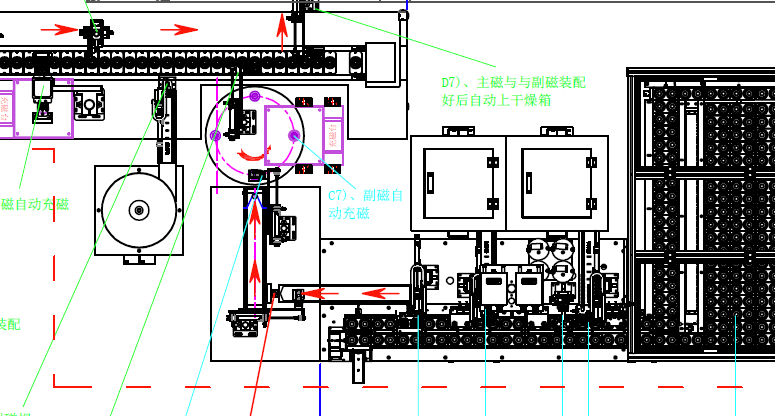 Overview:
The whole machine adopts the integrated structure design, automatically completes the magnetizing assembly process of horn sub-magnet, completes the transmission of sub-magnet connection, sub-magnetizing turnover, sub-magnetizing upper turntable, sub-magnetizing, main and sub-magnetizing assembly, etc. It is completed by fully automatic way, with stable performance, convenient operation, saving personnel and improving efficiency.The system is fully automatic, with stable performance, convenient operation, saving personnel and improving efficiency.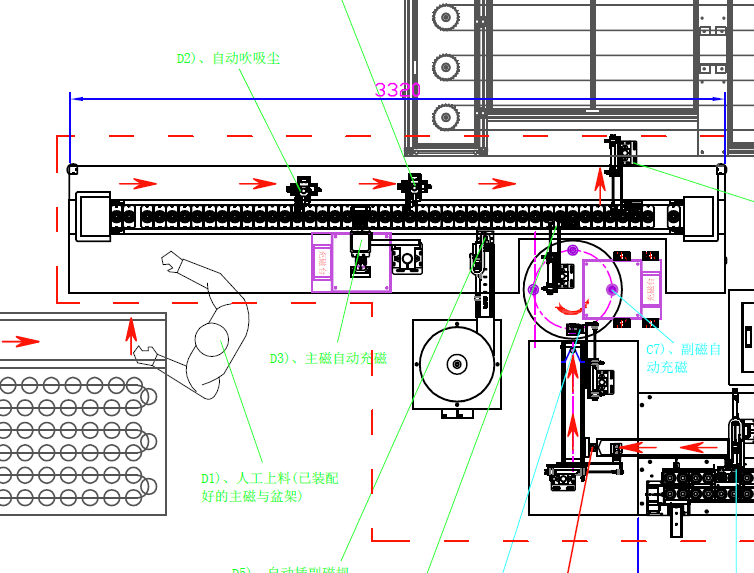 Overview:
The whole machine adopts integral structure design, fully completes the main magnetic circuit dust removal, automatic magnetization, automatic glue dispensing, automatic insertion of magnetic gauge, auxiliary magnetic assembly, integral magnetic circuit drying line, magnetic gauge pull and other processes, uses PLC precise control, original imported electrical components, only needs to change the magnetic prescribed position to replace the model. The whole machine can be changed by fixture. It is easy to operate and use.
Service Hotline:13428976919
Shenzhen hangshaC Shenzhen Jiujuok Industrial Equipment co., Ltd. (www.jiujuok.com) is National High-tech Enterprise integrating R&D, manufacturing, and sales of the Dispensing equipment、Magnetization euipment, and Industrial Robot . Over the years, the company has been committed to product research and development and innovation, and has established long-term cooperative relations with a number of universities in China, such as Changsha university of science and technology.Obtained a number of national technology patents and passed "national authoritative testing, quality qualified products" firmly, won "China's independent innovation products" and other honors.The products are widely used in electronics (loudspeaker, mobile phone, computer), automobile, optical device, plastic products and other industries, and are widely favored by the market. Learn More